BemaTec SA has been supplying machinery to the paper-making industry since 1960. Put your trust in a competent, dependable partner who places great importance on building long-term relationships with its customers.
Founded in Lausanne in 1960
---
---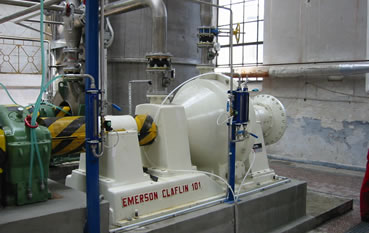 ---
BemaTec SA was founded in Lausanne in Switzerland in 1960. Initially named Bolton Emerson SA, the company developed as a supplier of machinery and know-how to the paper and plastic industries.
Now an independent company, BemaTec SA develops, designs, markets and provides after-sales service for machinery used in the paper-making industry.
BemaTec is an expert in its field. The machines it produces are stock refiners used specifically to treat textile fibers for applications including the manufacture of highly refined papers such as banknotes or cigarette papers.
This specific capability has enabled the company to sell over 1000 machines all over the world. It is now considered a global leader in its field, with customers in countries including France, the Czech Republic, Italy, Sweden, India and Brazil.
The products supplied by BemaTec - the new Claflins 111-222-333, the Claflin 2000 Ecofiner 50, the Magnitrap, and the Tornado II - have proved their efficiency and quality in the global pulp and paper industry.
---
Machinery associated with expert know-how
---
---
Markets
BemaTec's products are used for the treatment of all types of special papers and specific fibers, for example the recycling of textiles such as cotton, hemp, linen and jute.
Machines
The four machines in BemaTec's range are designed for the treatment of cellulose fibers: cutting them, as well as fibrillating and hydrating them.
Each machine has specific features, yet they all have the same purpose: refining cellulose fibers. Some of them are highly versatile: the Claflin, for example, is the best machine for cutting very long fibers thanks to its filling designed specially for this purpose, and for obtaining the best fibrillation results when fitted with an appropriate filling such as the Develomax™.
BemaTec is thus capable of adapting to the two extremes that paper-makers sometimes require: intense cutting and/or intense refining.
For sophisticated papers (e.g. banknotes) or glassine-type label backing papers (which require special refining), please feel free to submit your specific requests to BemaTec.
Technical services and development
The BemaTec team is proud to be part of a streamlined organization aiming to meet customers' needs from product design through to maintenance while at the same time pursuing ongoing technological development. Each member of BemaTec is committed to maintaining the highest standards in terms of customer service and product quality.
These services include technical assistance, process support, design, modification, retrofitting, repair, manufacture, supply of a complete range of BemaTec original spare parts, after-sales services, and fillings for the Claflin refiners as well as for other disk refiners and shallow-angle conical refiners.

---
BemaTec's after-sales service
All our machines are supplied with highly detailed, precise technical documentation in which all components are identified meticulously. Machines are kept in full working order thanks to BemaTec's ability to supply spare parts over many decades while continuing to pursue technological developments. Mindful that your machines must stand the test of time and be passed from one owner to another, BemaTec's teams work constantly to develop leading-edge techniques that will make our machine components last even longer.