BemaTec SA, a specialist supplier since 1960
BemaTec SA, initially Bolton Emerson SA, was founded in Lausanne in Switzerland in 1960 as a supplier of machinery and services to the paper and plastic industries.

Now an independent company, BemaTec SA develops, designs, markets and provides after-sales service for machinery used in the paper-making industry.
The BemaTec range of equipment consists of stock refiners used specifically for treating cellulose fiber, in particular textiles such as cotton and hemp.

This specific capability has enabled the company to sell over 1000 machines worldwide, gaining it a reputation as a global leader in its field of expertise.
Equipment designed for the global paper industry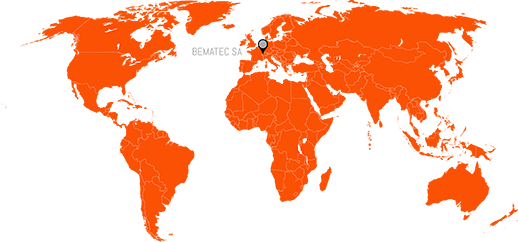 BemaTec has customers worldwide, from France to Brazil, India, Iran, Argentina, Sweden, etc.
BemaTec's head office is located in Lausanne. In our products, our customers find the standards of quality, rigor, expertise and service they expect of a Swiss company.
Contact us
BemaTec's expertise is sought by banknote paper mills
---
---
BemaTec shares its expertise with a number of paper mills around the world that design and produce security paper for banknote printing.
BemaTec supplies them with machinery, in the form of a special type of refiner for treating textile fiber to be used for producing banknotes.